10 Life Hacks to Pass an Interview in English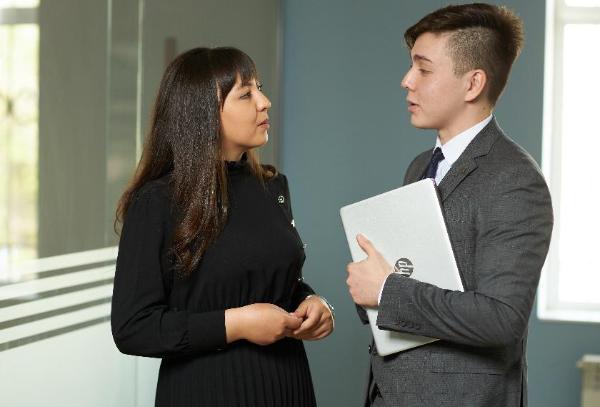 An interview with a potential employer is a challenge for a candidate, but an additional stress factor is checking candidate's level of English. Interviews in a foreign language are usually held when hiring employees in an international company, when the requirements for knowledge of a second language are related to the job duties of a specialist, the need to communicate with an international team and manager, participation in negotiations with foreign customers and partners.
Experiences and worries before such a meeting can drive anyone to a dead end. So, we have collected several life hacks that will help you to pass this test successfully:
Don't start the interview with the phrase "Sorry for my English." Do not demonstrate uncertainty, show up from the best side. If you're still worried, use "My English is a little bit rusty, I haven't used it much recently"
Be prepared for a small talk - as a rule, the conversation begins from it, it would help you to feel ease in communication. You can talk about the weather ("Nice day, isn't it?") or about the stylish interior of the business center where the meeting takes place. If your interlocutor is a foreigner, it is acceptable to ask how long he or she has been in the country or whether he or she likes the city - "How do you like |country|?".
Study vocabulary related to your profession in advance: terminology, peculiarities of future position, field of activity of the company in which you are interviewed. The recruiter will appreciate it if during the conversation you use professional terms.
Prepare a short story about yourself in English. The question "Tell me about yourself" assumes that you will give information about your functions and success at the previous place of work. Think in advance how you would like to describe your experience and skills as a specialist, achievements in a particular company ("I have ... years' experience working as ...").
Be ready with handy phrases that will emphasize your good command of English language. There are several that you can use in your speech:
I am ... hard-working, сustomer-oriented, responsible, creative, proactive, attentive to details, team player, results driven, good at multitasking
I have ... years' experience in the field ...
I want to further my career in ...
I am looking forward to an opportunity to work in an international environment and with people from all over the world
Handle stress easily
To meet deadlines
Drive to succeed...
in line with my qualifications
I expect experience-based remuneration
Competitive salary
What sets me apart from other candidates is...



If you did not work or often changed the place of work – think over the explanation in advance. It's important for a recruiter to understand why you have breaks in your work experience. In your answer try to exclude such wording as: dismissal at the initiative of the employer, reduction from a previous place of work or conflicts with management. This can form a negative opinion of you as a candidate. We recommend using phrases like "I resigned to focus on..." or "I am looking for a more challenging position".
"What do you know about our company? Why do you want to get this position?", — are frequently asked questions at the interview. The answer should win your future employer over, show your interest in work: I'm eager to further my skills/ start career working for your company as... a sales manager because.... Study the website or social networks of the organization in advance, preferably English-language versions, as well as the name of the services and the vocabulary that is used in this area in order to freely operate with relevant terms in the conversation.
If you did not understand or did not hear the interlocutor - the main thing is not to panic. This situation can occur if the recruiter is not a native speaker, you simply did not get the word or sentence or misheard it. Don't be afraid to ask again, "I am sorry, I didn't catch/ understand that, please, could you repeat it?"
If you don't know the answer, it doesn't matter. It's okay to say, "I don't know." You can't be aware of everything. So just answer, "I am not sure, I'll find out for you." Clarify the information and return with it later during further communication with the recruiter after the interview.
The usual practice at the end of the meeting is to ask if your work experience is suitable for this position - Do you think that my experience is relevant for this position? This will show your desire and motivation to get a job in the company.
And most importantly, do not forget that calmness and a positive attitude are your main allies in any communication. A recruiter is a human just like you, and most likely, English is not his native language either. Don't be afraid to clarify, ask again or admit that you don't know something. With proper preparation you will definitely make the most positive impression on the interlocutor.